The Settings button is located in the top right corner of your Dashboard.
Watch this tutorial on how to modify all site settings
Managing Site Settings in Omeka.net from Omeka on Vimeo.
General Settings
Under the General Settings tab, you may edit the fields you filled in when you installed your site and add other information, including: Administrator Email, Site Title, Site Description, Copyright Information, and the site's Authors.

The "Show Empty Elements" box is left unchecked, meaning that on the public site empty metadata fields will not appear on an item page. If you would like empty fields to appear, check the box.
Users
Invite others to work on an Omeka site. The site's owner is automatically a "super" user who sets the permissions for other users/collaborators.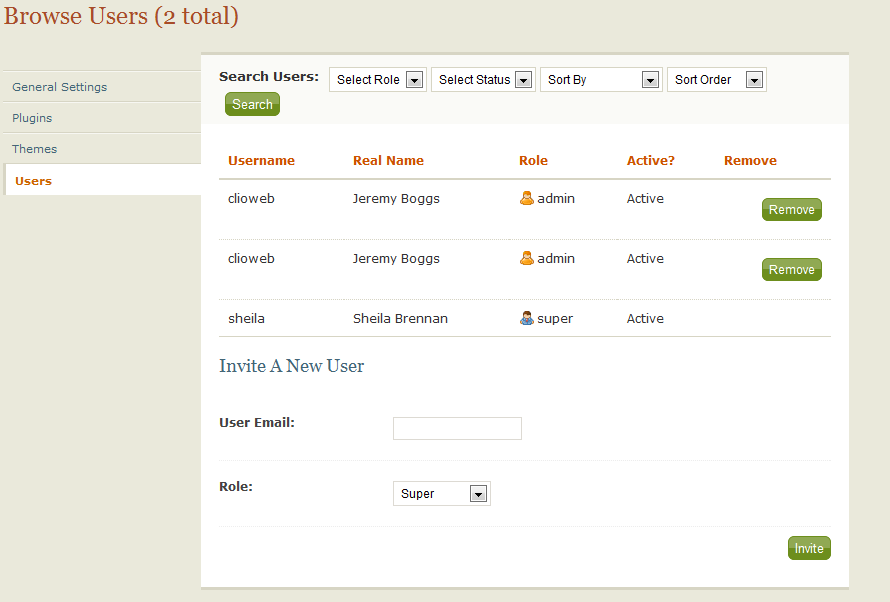 Enter the email address of the person you wish to invite to collaborate with on your website, and choose what level of permissions, or access, she/he will have to this website.

Please note: if you own a website and downgrade your own permissions to test them (ie., change "super" to "contributor"), you will no longer have access to the Settings panel to manage user permissions. The best way to test is with a friend or by using a secondary email address and username for yourself.

Super users can access all available pages in the admin, and manage the site's settings, including: adding and deleting users; changing themes; managing plugins.
Administrator users can access all pages in the admin except those under the "Setting" tab.
Contributor users can add, edit, and delete Items, Collections, Item Types, and Tags that they contribute. They may also create exhibits using all items in the archive.
Researcher users can see all of the Items, Collections, and Item Types pages, but cannot edit.
If the invited user does not have an Omeka.net account, they will be directed to the sign up page where they can get a free basic account to work on this website.
Deleting Users
As the site's owner/super user, you may delete users from your site by clicking the "Remove" button to the right of her/his name. That user will no longer have permission to access the administrative backend of the website. Removing users from your site does not delete the user from the Omeka.net service, or effect work they are doing on other omeka.net websites.