This plugin is available for accounts with Silver, Gold, and Platinum plans.
The Geolocation plugin allows you to pin items in your database to a Google map. Items are geolocated individually with related metadata and collectively on a central map.
Configuring
Note: Google has begun to require API keys for their mapping products. If you find your map is no longer working, please obtain a key and enter into your Geolocation configuration panel. If you are starting a new project, we recommend implementing an API key from the start. You can obtain an API key by visiting https://developers.google.com/maps/web/ and clicking the Get a Key button. This key should then be added to the API Key field on the Geolocation configuration page.
Once you have downloaded the Geolocation plugin, select Plugins in the top navigation of your admin. Activate your plugin and select Configure.
Using the configure page, select:
number of locations to show on the map at one time.
default latitude, longitude, and zoom level.
width and height of map displayed on individual item pages.
whether to use metric distances when searching items on the map.
whether to make a link available to the Map on the Items/Browse page.
whether to add a map to the Contribution submission form, so that contributors can select a location that relates to their submission.
After configuring, don't forget to save your changes.
Getting Started
After you have activated and configured the Geolocation plugin, it is time to geolocate some items.
When adding or editing an item (admin/item/edit and admin/item/add pages), you will find a new Map tab. When adding metadata for an item, click on the Map tab to add a location.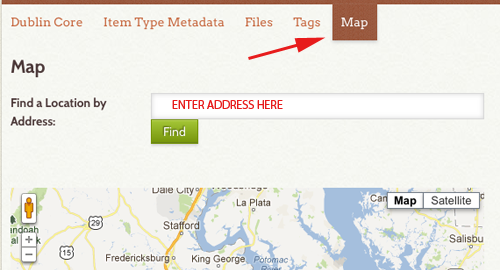 Enter the address of the item you wish to geolocate. A marker automatically maps the selected address.
OR, click directly on the map to place the item you wish to geolocate. A marker automatically maps the selected site.
To change the location of an item, type in the new address. You'll be asked if you are sure you would like to change the item location. Select OK or Cancel.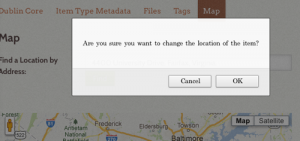 Don't forget to save your changes.
Viewing Items on the Public Map
Visitors to your Omeka.net site may use a map to browse through all of your geolocated items.
When configuring the plugin, if you selected "Add Link to Map on Items/Browse Navigation," a "Browse Map" link will be added automatically to the secondary navigation on the items/browse page.
From this view, visitors may browse all mapped items, browse by tag, search for items, and browse the map.
They may also locate a mapped item by clicking on the items listed in the right column of the map.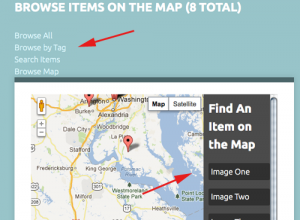 Browse and Search Items on Admin Map
A Map tab appears in the left navigation bar located on the left side of the Dashboard. Clicking on the Map tab takes you to a map that displays all items geolocated in your Omeka.net site–public and not public.
From this view, you may also search mapped items using the item advanced search. Search results appear directly on the map.