The admin dashboard in the new Omeka.net looks very different from previous versions. Log in to your dashboard at http://yoursite.omeka.net/admin.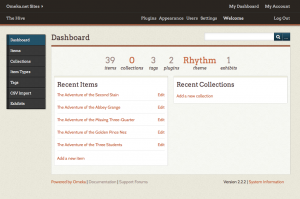 The menu bar on the left side of the dashboard allows you to navigate Omeka's functions, including:
Items
Collections
Item Types
Tags
Plugins may also show up here once installed
Tabs on the top of the site dashboard help control plugins, appearance, users, and settings:
Plugins.
Appearance: Themes, Custom Navigation, Display Settings. (Theme configurations for displaying specific Dublin Core elements is now in Hide Element plugin.)
Users: add, edit, and delete.
Settings: General Settings, Search Settings, Edit Element Sets, Manage Item Type Elements, and API Settings.
From the very top of the admin window, you can also access your Omeka.net dashboard and account.
Watch this screencast for an overview of what's new on Omeka.net.