This is the first in a series of posts highlighting sites built on Omeka.net.
Claire Boreham (@archive_claire) is a postgraduate student in Archives Administration at Aberystwyth University. Her site, William Corbett's Bookshop, allows visitors to browse the contents of an early seventeenth century bookseller's shop in Newcastle-upon-Tyne, reconstructed from his will and inventory. The site is running on an Omeka.net Platinum plan.
How did you come across William Corbett's will and inventory?
I put together Corbett's Bookshop as an undergraduate student at Newcastle University, as part of a project called Making the Archive Public: Digital Skills, Research and Public Engagement – I was one of a group of students who were given training to help us develop digital collections using Omeka. I would love to take the credit for finding Corbett's will and inventory, but actually they were brought to my attention by Dr Ruth Connolly, who was supervising me for the project. The documents are in Durham University Special Collections, and I was immediately captivated by them: they provide such a vivid snapshot of a specific place and time in history. I thought it was really cool that we have an actual list of all the books that were stocked in a bookshop almost four hundred years ago, and I could see the potential for a really interesting Omeka site.
Why did you decide to build on Omeka.net, as opposed to a standalone Omeka site or some other platform?
At the start of the project, Shawn Day from Queen's University Belfast gave us a great afternoon of training on how to use Omeka.net. He told us to think of exhibitions as ways of telling stories, which, even though I must have been to hundreds of museum exhibits in my life, wasn't something I'd ever really thought about before. Using Omeka is a great way of telling stories with specific items in much the same way as a physical exhibition, but without any of the physical limitations. I don't know (I wish I did!) what became of the actual books that William Corbett stocked in his shop, but using Omeka I was able to start to recreate his shelves, by gathering together digital images of books held in libraries across the UK, and linking to the full texts of the books transcribed by the Early English Books Online Text Creation Partnership.
Corbett's Bookshop sort of became my baby, but it was also an extra-curricular side-project going on at the same time as my dissertation and final year exams, so I had limited time to work on it. I wouldn't have even been able to attempt it if I'd had to do anything too large-scale or too technical in terms of building the site itself. Using Omeka.net meant that a lot of the work was done for me, and I could really focus on putting together the content.
Has using Omeka changed the way you think about the books and documents which make up the site's content? If so, how?
As I was going through the process of identifying the books listed in the inventory, I was struck by just how many were to do with theology. Putting the items on the site into collections so that the user could browse by genre brought this home to me even more: there are more than 20 Bibles listed in the inventory, along with prayer books, psalm books, and over 40 other works about theology. To put this into context, there are nine classical texts, five or so dictionaries and other reference books, and only one book, Amadis de Gaule, which could be straightforwardly described as a work of fiction. Studying English Literature, I'd got the impression that early modern readers were all reading plays, and poetry, and history – but really, overwhelmingly, the bestsellers were books about the Bible. Religion was such an integral part of people's lives, and that's reflected in the books they bought.
What piece of advice would you give someone who wants to build a project like yours?
Something I wish I'd known before I started the project is just how helpful librarians and archivists are. For some reason, I was under the impression that Special Collections was a really scary place, guarded by dragons who didn't want grubby-fingered researchers going near their stuff. I could not have been more wrong. All the librarians and archivists I spoke to went to incredible lengths to help me find what I was looking for, provide me with digital copies, answer my questions, and explain complicated copyright things to me. They are lovely people who really, really do want people to use their stuff – that's what they're there for.
What is one of your favourite items from the site to share?
There's one book on the site which is unusual because it's listed not in the inventory, but in William Corbett's will. In his will Corbett left "one great hearball" to someone called Robert Wolfe – a 'herbal', a book describing plants and their medicinal properties. I've illustrated this on the site with a copy of 'A New Herbal, or History of Plants' by Rembert Dodoens, a popular herbal from the time.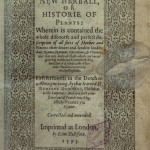 I've picked this item because it raises so many questions – who was Robert Wolfe? Why did Corbett leave him this book in particular, out of over a thousand that were listed in the inventory when he died? What happened to the rest of the books? Did Robert Wolfe, or Corbett's wife Elizabeth, take over the bookshop? There's a whole narrative here, and I've really only scratched the surface so far.
Back to News