After logging into omeka.net, you will come to the omeka.net home page with options to go to your Dashboard or Account in the right top side. If you forgot your password, click the "Lost Your Password?" link above the login screen.
My Dashboard
From the Dashboard, you may add, manage, and delete each of your websites.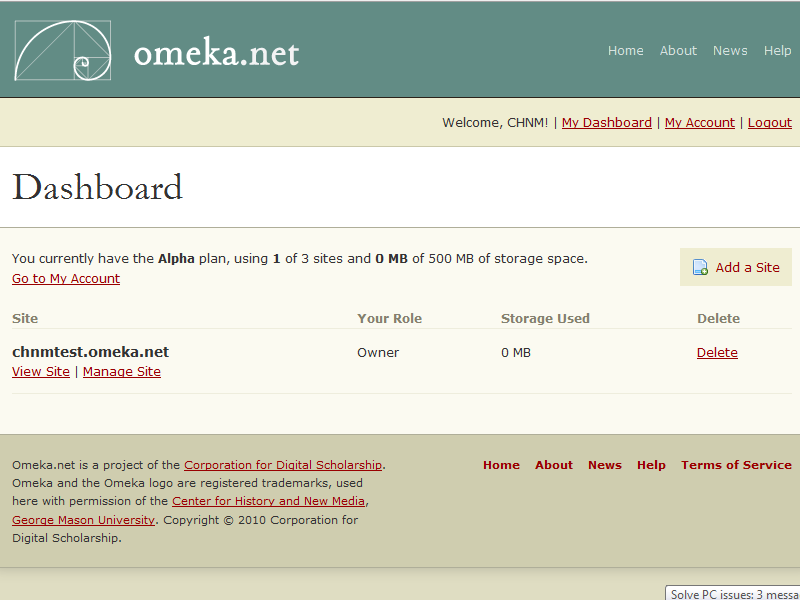 Adding a Website: Click "Add a Site", and fill out the form to reserve a site name that will part of your website's URL, for example: http://myprojectname.omeka.net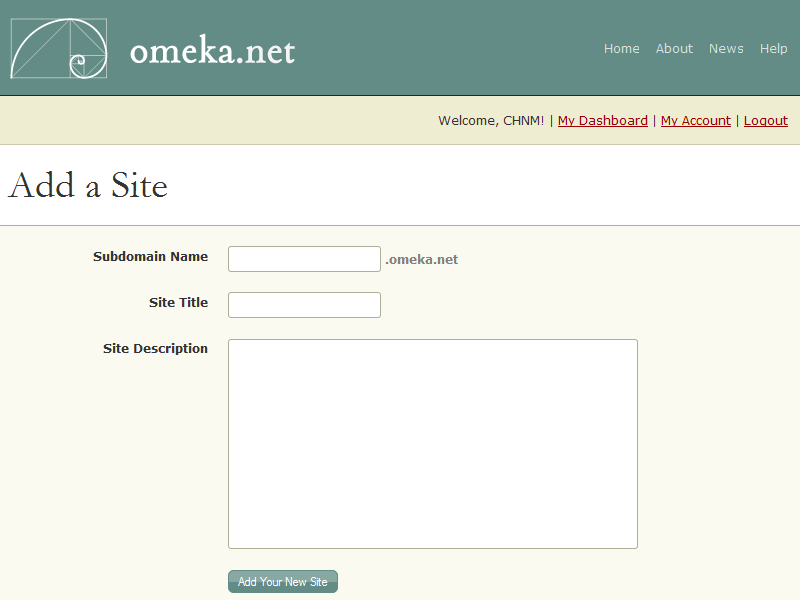 Managing a Website: Once added, a website will appear in your Dashboard. Under the site's name, you may click "View Site" to view the public site, or "Manage Site" to go to the administrative dashboard of your website where you create an archive, build exhibits, and manage its plugins and themes.
This display will also inform your of your role on each site listed and the amount of storage used by each site.
Deleting a Website: Be very careful–once you delete a site, all of your data will be permanently deleted. Click the delete button to the right of the site's name. You will be asked to enter your password to confirm the deleting process.
My Account
From this screen, you may change your password, edit personal information, deactivate an account, upgrade an account, and monitor the storage limits on your websites.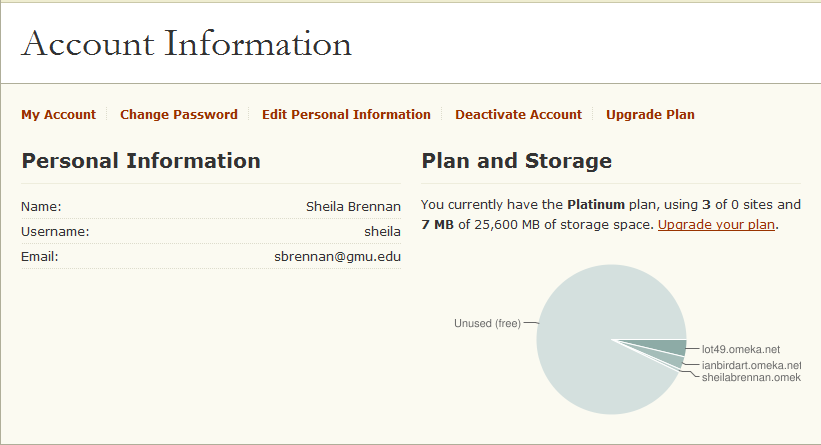 Changing Password: To change your password, you must first enter your current password and then your new password twice.
Editing Personal Information: Click here to edit your name, institution, and/or email address associated with this account.
Deactivating an Account: Be very careful–once you delete your account, each and all of your websites and their accompanying data will be permanently deleted. You will be asked to confirm deactivating by entering your password before the action is complete.
Upgrading an Account: You may upgrade your plan at any time. Each plan fee is billed in one year cycles. Plans will not be pro-rated.
Back Ups
All Omeka.net sites are backed up daily, but it is not possible for users to download those backups as files.
If there is a system problem, every site will be restored from the last backup. If a user deletes data from their individual site, it is not recoverable.