The Reports and Bar Codes plugin allows users to generate a report list of items in HTML or a PDF with QR-style bar codes associated with select items. The plugin is available for plus, silver, gold, and platinum plans.
What is a QR Code? http://en.wikipedia.org/wiki/QR_code
A report is a named set of items of your choice. You can create reports that encompass all items in the system, or choose to report on one specific item, one collection, or by a search term. Reports will automatically update as new items are added to Omeka.
Creating a Report
Install the plugin from the admin/plugins page. A tab will then appear in the top navigation of the main Admin panel.
Go to the Reports tab, Admin > Reports and click the link in the top-right that reads "Add a Report."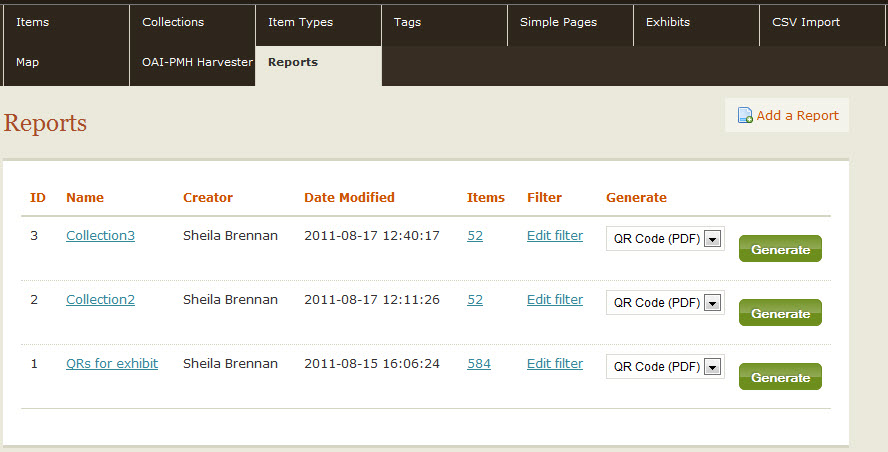 On the "Add" page, choose a name and a description for the report.
On the "Edit Filter" page, you can choose the criteria under which items will be included in the report. Leaving the form blank will select all items in Omeka.
Generating a File
Once you have created a report, you can publish report files.
To generate a file, click the "Generate File" button on the main Reports page, or for a specific report already created by clicking the report's name.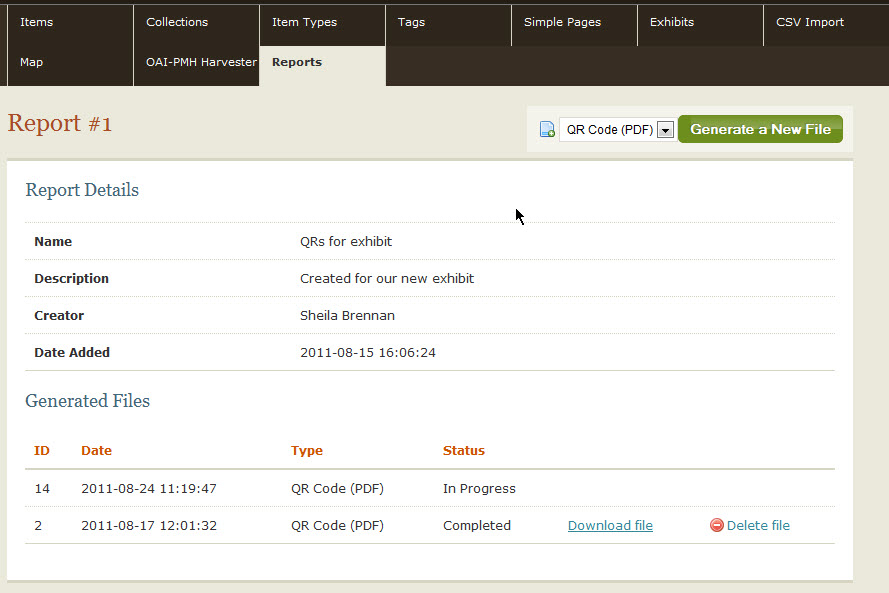 The drop-down menu next to the "Generate File" button allows you to select the type of report that will be generated, HTML or PDF for QR Codes.
The report will be generated in the background. Refresh the report details page as the report's status changes from "In Progress" to "Completed."
Viewing and Downloading the File
All report files with a status of "Completed" on the report details page have two links, allowing you to view or delete the file.
"View file" allows you to view the generated file in your browser. Save the file to your local machine.

HTML: Generates all the metadata for each item as one HTML document, and will publish it to an HTML format, seen below. You may view the report locally on your computer, save it as another file format, or print.

PDF for QR Codes: Generates a PDF document containing QR Codes for each item, 10 to a page. These codes may be printed or cropped and used in other files, exhibit labels, or promotional materials.

Deleting Files
"Delete file" deletes the generated file from your Omeka server. Before clicking the "Delete file" link, make sure you have saved a copy of the file if you want to keep it.