This plugin is available for accounts with Plus, Silver, Gold, and Platinum plans.
This plugin enables Google Analytics to track visitation to your website. The Google Analytics plugin is available on all Omeka.net plans.
Configuring the Plugin
If you do not have a Google Analytics account already, visit the Google Analytics website and create an account.
Once you have an account, Add a "Website Profile" for the Omeka.net website you wish to track. You may create Profiles for multiple websites.
Install the Google Analytics plugin from the Settings panel and click Configure.
Copy the value for Account ID found next to the site URL (starts with "UA- or G-") and paste it into text field.
Save Changes.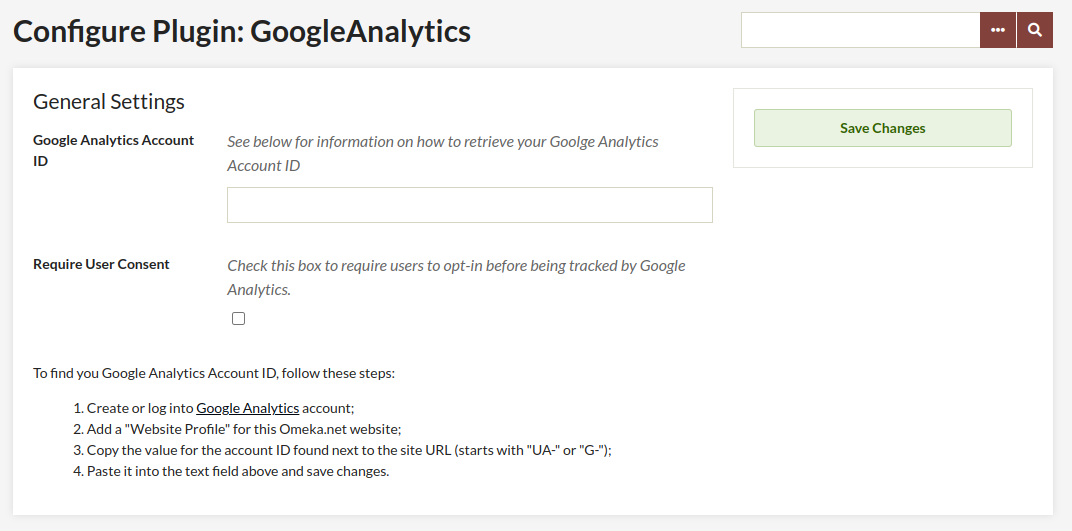 Tracking Visitors
To view the latest website visitation numbers, log into your Google Analytics account. Visitor statistics will be stored and can be examined at your Google Analytics dashboard. They are available to view on Omeka.net.