This plugin is available for accounts with Plus, Silver, Gold, and Platinum plans.
With the Simple Vocab plugin, you can define a controlled vocabulary for any metadata field in your Omeka.net site. A controlled vocabulary is a list of terms that are preselected by you or another administrator. This plugin even helps you build vocabularies using texts that already exist in your archive.
Configuring the Plugin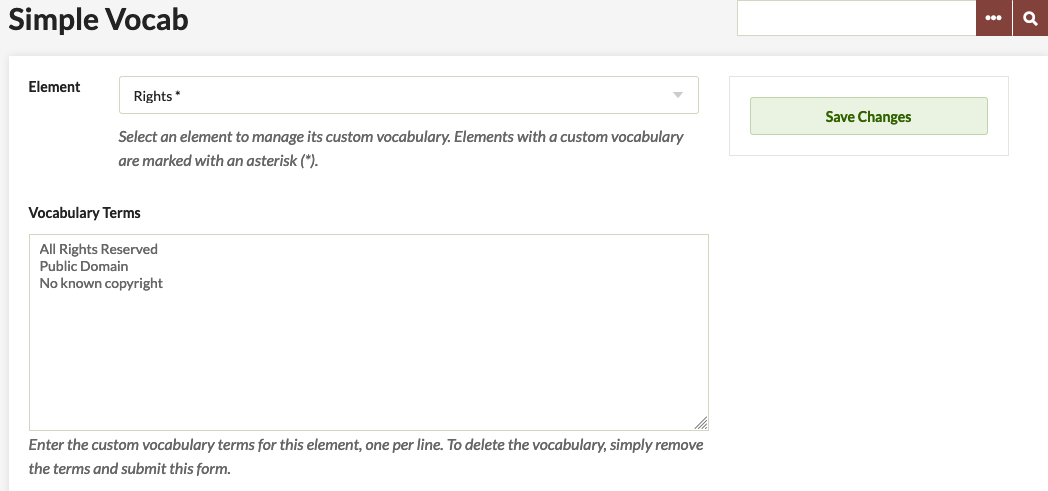 Once you have installed the plugin, you can set up your controlled vocabulary by configuring the plugin:
Go to the Simple Vocab tab in the left-hand menu under Dashboard.
Select the Element (all Dublin Core and item type metadata fields are available) for which you wish to offer a controlled vocabulary. For example, you can select "date" and create sets of date ranges.
Enter the custom terms you want available when entering metadata for this element, one per line. To save your entries, click Add/Edit Vocabulary.
To delete the vocabulary, select the element (note, it should be starred), and the terms will appear in the text box below. Simply remove the terms and re-submit this form by clicking Add/Edit Vocabulary.
Simple Vocab in Action
Once saved, the controlled vocabulary terms will appear in a drop-down menu on item pages to assist with the process of adding metadata.

Viewing Terms Already in Use
You may view a list of texts for any selected element that currently exists in your site. This list may be a useful reference for building controlled vocabulary, but be aware of some caveats:
Vocabulary terms must not contain newlines (line breaks).
Vocabulary terms are typically short and concise. If your existing texts are otherwise, avoid using a controlled vocabulary for this element.
Vocabulary terms must be identical to their corresponding texts.
Existing texts that are not in the vocabulary will be preserved — however, they cannot be selected in the item edit page and will be deleted once you save the item.
Back to top